Lough Rynn Estate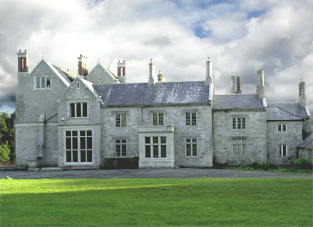 Lough Rynn House in County Leitrim was designed in 1832 by William Murray, for Robert, Viscount Clements. It was extended in 1880 to the designs of Sir Thomas Drew, who enlarged the house in harmony with the original Tudor Revival styling. Lough Rynn House estate, sited picturesquely on the shores of Lough Rynn, contains many buildings and features of notable architectural quality such as stables, coachyard, farmyard, boathouse, walled gardens, viewing tower, as well as the church, school, dispensary and a number of lodges and estate cottages. The most striking of these is the unusual Swiss Cottage, built as an ornamental house in the tradition of eighteenth-century cottage orns, but in this case based specifically on an Alpine style. These buildings combine to form an estate of major significance within Leitrim and, indeed, Ireland.
View Buildings
Railways of Leitrim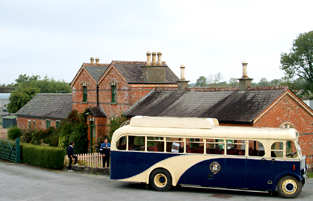 The first railway to serve Leitrim was the Midland Great Western Railway (MGWR) Mullingar-Sligo line, which opened in 1862. The line had its sole station in Leitrim at Dromod (1885). Leitrim's railway network was expanded in 1887 with the opening of the Cavan and Leitrim Railway, a narrow gauge railway serving the same region as the Ballinamore and Ballyconnell Canal running between Dromod and Belturbet. In the same year, the construction of the Sligo, Leitrim and Northern Counties Railway commenced, running between Sligo and Enniskillen, with stations at Dromahair, Manorhamilton and Glenfarne. The advent of the railways transformed the towns and countryside through which they passed, leaving an array of impressive architectural and industrial heritage. Despite the closure of Leitrim's narrow gauge railways in the 1950's, its legacy is still visible through surviving railway stations, outbuildings, signal boxes, bridges and other ancillary structures that are still evident in the landscape. The recently restored railway terminus at Dromod is located beside the MGWR station.
View Buildings
Buildings of corrugated iron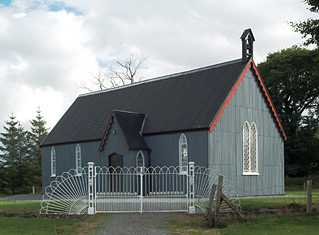 During the Industrial Revolution, corrugated iron emerged as a mass produced building material. Its appeal to prospective builders was its cheapness, lightness, flexibility and ease of assembly. In the nineteenth century builders advertised portable timber and corrugated iron prefabricated buildings through catalogues and exhibitions. This fashion did not have universal appeal and normally found expression in the building programmes of industry, agriculture and fledgling religious communities. County Leitrim is home to two typical examples of corrugated-iron churches, Glencar Presbyterian Church and Lurganboy Church of Ireland. Both are simple-planned structures with corrugated-iron walls and roofs, enlivened by decorative timber panelling, bargeboards, bell cotes and finials. Corrugated-iron is light-weight and easily worked which makes it a suitable roofing material; it has been used commonly in Irish vernacular buildings as a replacement for thatched roofs.
View Buildings