Building of the Month - January 2013
Robin Walker (1924-1991) and the introduction of a Miesian aesthetic to Ireland
Figure 1: Robin Walker (1924-1991) photographed in 1968 by Fergus Bourke. Courtesy of Simon Walker

Robin Walker was a major figure in the introduction of a Miesian aesthetic to Ireland (fig. 1). His role in the Scott Tallon Walker partnership helped pave the way for some of the most significant developments in Irish modern architecture to date. Walker was born in 1924 in Waterford. Regarding his early life his Protestant upbringing in a predominantly Catholic country would make him experience culture as something of an outsider, and potentially give him a fresh perspective that would help him move away from old habits and create something new [1]. He studied architecture at University College Dublin from 1942 to 1947, and then moved to Paris to study and work under the Swiss Modernist, Le Corbusier (1887-1965) [2].

Returning to Ireland in 1948, Walker took a job in the offices of Michael Scott (1905-89). At this point, Scott was a very recognisable figure in Irish architecture, known for his Geragh (1937-8), Sandycove, and for the Irish Pavilion at the 1939 Universal Exhibition. Walker worked with Scott during the design of the iconic Busáras (1945-53). Studying under two major architects would certainly give the young Walker a greater creativity when faced with architectural problems.

Walker stayed with Scott for eight years before travelling to Chicago to study under the great Modernist architect Mies van der Rohe (1886-1969) at the Illinois Institute of Technology. Already a fully qualified architect, Walker spent two years in Chicago, first working on his Masters thesis and then tutoring as part of Mies' staff [3]. Because of the freedom given to students by Mies, allowing the introduction of new concepts and helping them to learn to solve their own architectural problems, their work was independent of Mies' but still strongly influenced by his philosophy and principles. Walker was one of the last students to study or work under Mies prior to his retirement as Director of Architecture in 1958.
1958 also saw Walker return to Ireland, upon which he was made a senior partner in Scott's firm: Scott had made Ronald Tallon (b. 1927) a senior partner shortly beforehand and Tallon would also go on to show a strong Miesian influence [4]. In terms of aesthetic influence, Tallon's work exhibited a much stronger influence than that of Walker and buildings such as his Bank of Ireland Headquarters (1968-75) in Baggot Street; Carroll's Factory (1967-70), Dundalk; and the RTÉ complex (1960-73) in Donnybrook, all convey a strong Miesian influence.
The Miesian influence the firm displayed under Tallon and Walker, however, should not be seen as cheap replications. Both men were aware of this influence but wanted to use it in new ways that would respond to their Irish surroundings and feel more like a natural extension of a Miesian form. Walker even wrote on this, saying:
In my work and generally in the work of our firm we have followed the lead given by Mies van der Rohe. In many ways we might be considered mere copyists; although I think we have extended his vocabulary, if not his grammar, of form. We have followed Mies in his conviction that his work is the right way and by that I mean the religious way just as for Japanese the "organic" and for Western man the "Geometric" way became the religious or right way [5].
This influence had a major effect on the firm throughout the 1960s and 70s. Some of Scott Tallon Walker's most ground breaking developments have a strong Miesian connection. This is especially evident in Walker's designs for the National Bank [now Bank of Ireland] (1965) in Suffolk Street, Dublin. Much like Scott's Busáras, Walker's bank was one of the earliest examples of a glass façade in Irish architecture, and the first instance of a Miesian glass and steel façade.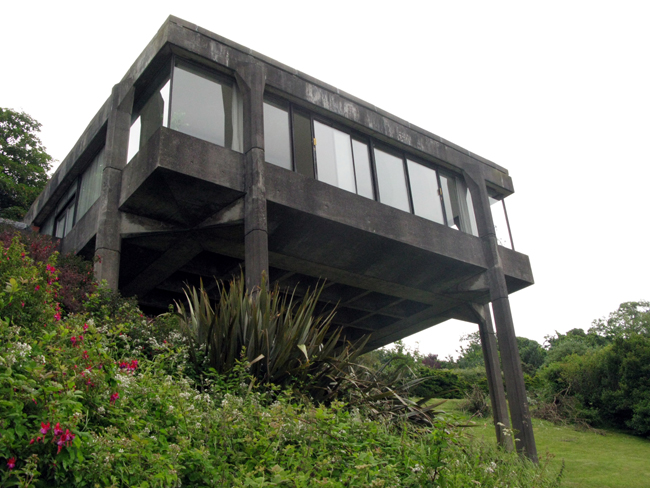 Figure 2: A view of O'Flaherty House (1963-5), a perfectly square pavilion emerging from a hillside overlooking an inlet of Kinsale Harbour. Sometimes known as "The Weekend House", the pavilion was designed for Michael O'Flaherty, Managing Director of Volkswagen Distributors, and Walker submitted two proposals to his client. The second, unexecuted scheme called for a three bedroom house built on concrete brick piers: it is not known why O'Flaherty reverted to the first proposal but Walker's powers of persuasion were considerable. Walker favoured the clear expression of structure and the coffered concrete platform, resting on chamfered pilotis, was intended to be seen from the water's edge; likewise, the roof, with its grid-like pattern, was to be viewed from the upper slope
This trend towards innovation continued throughout the careers of both Walker and Tallon. While Tallon attempted to refined an aesthetic Miesian influence in later buildings such at Tallon House (1969), Foxrock, and the Carroll's Factory, Walker attempted to move away from a close aesthetic influence, focusing more so on the principles and architectural philosophy he gained from Mies in Chicago. This is most evident in later buildings such as the Restaurant Building (1968-70) at University College Dublin; the PMPA Headquarters (1973), Dublin; and O'Flaherty House (1963-5) in Kinsale, County Cork, all of which are linked aesthetically to Mies, but are much more influenced by other Miesian elements such as his interest in open-planned construction. O'Flaherty House is clearly influenced by Mies' Farnsworth House (1945-51), Chicago, taking the similar form of a single-storey glass-walled residence raised on pilotis, but deviates significantly in its execution, most notably trading steel for reinforced concrete (figs. 2-4). Both this and the Restaurant Building earned Walker great praise, including RIAI silver and gold medals respectively [6].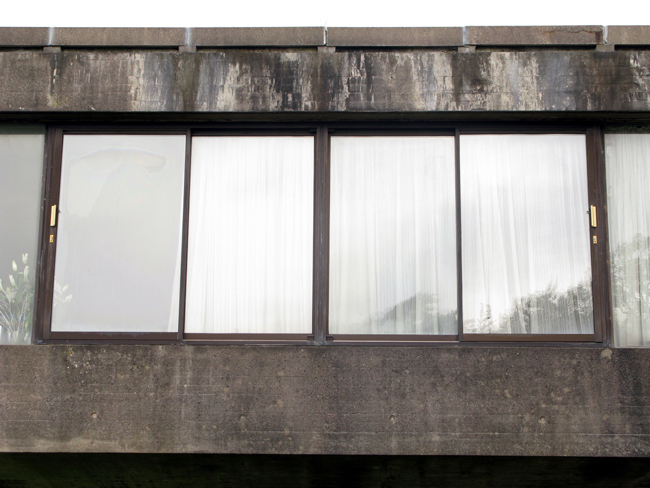 Figure 3: O'Flaherty, a bachelor, had no need for the privacy associated with a conventional partitioned home. Walker consequently provided him with an open plan pavilion where the dining and sitting areas, with their great expanses of glass, enjoy panoramic vistas overlooking Kinsale Harbour
Walker retired from Scott Tallon Walker in 1982, choosing instead to focus on teaching at University College Dublin, his writings, and his interests in town planning. Throughout his retirement he also took part in the heated debate between conservationists and modernists, writing significantly on the subject. Today he is remembered as one of the most influential architects with regards to the spread of modern architecture in Ireland.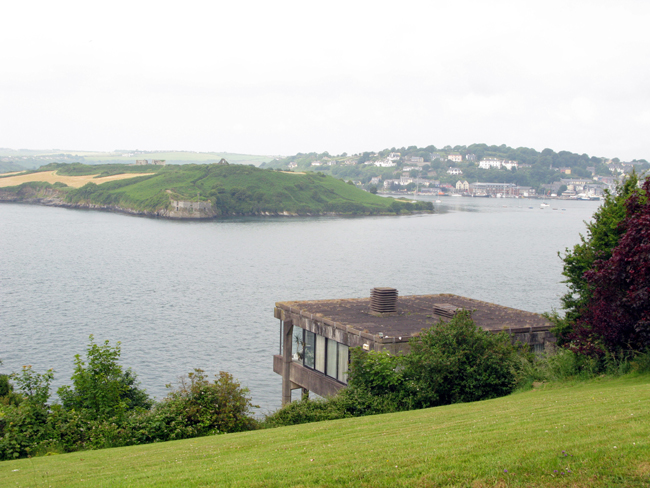 Figure 4: A view from the upper gardens showing O'Flaherty House overlooking the ruined James's Fort and the town of Kinsale
Simon Cantwell is a PhD student in University College Dublin's School of Art History and Cultural Policy. His research seeks to explore the decline of Classicism in early twentieth-century Dublin. His MA dissertation looked at the influence of Mies van der Rohe on Robin Walker
1 Walker, Simon, "Botharbui" [www.walkerarchitects.ie/studio/paper/BotahrBui.pdf]
2 Beckett, Annette, Olley, John, Campbell, Hugh and Wang, Wilfried, Ireland: 20th-century Architecture (Munich: Prestel, 1997), p.198
3 ibid.
4 O'Reilly, Sean, "Early Modern and Late: Scott Tallon Walker" in Irish Arts Review Volume 23 (Dublin: Irish Arts Review, 2006), p.114
5 Walker, Robin, "Philosophy of architectural design III: RIBA Conference 1976" in RIBA Conference 1976 (Dublin: RIBA, 1976), p.1
6 O'Regan, John, Scott Tallon Walker Architects: 100 Buildings and Projects 1960-2005 (Kinsale: Gandon Editions, 2006), p.370
FURTHER READING
Click here to download "Object in a Landscape" by Alexander Kearney, an article on O'Flaherty House, Kinsale, from Irish Arts Review Yearbook Volume 16 (2000)