Building of the Month - October 2012
Representative Church Body Library Architectural Drawings Collection
The Representative Church Body Library holds several collections of architectural drawings which are of value both for architectural and historical purposes. These drawings are used by academics, local historians and students and increasingly by those who have purchased former Church of Ireland churches and rectories and are anxious to know more about their new homes. The drawings are also an important source of information for architects, increasingly those engaged in conservation architecture, and thus are a valuable heritage resource.
Some of the drawings are the work of distinguished Irish architects such as James Pain (c.1779-1877); John Semple (1801-82); and Joseph Welland (1798-1860), and are works of considerable beauty as well as utility. Others are clearly working drawings, often traced onto gun paper and very fragile.
Figures 1-2: A drawing of Saint Hugh's Church (Kilvemnon), outside Mullinahone, County Tipperary, signed (1841) by James Pain (c.1779-1877) and labelled "Elevation of West End" and "Elevation of East End". A date stone records the date of construction as 1842. A recent photograph of the church, closed in 1997, shows a porch absent from Pain's design
A substantial collection is the six-volume survey of churches by James Pain who was successively Architect to the Board of First Fruits and the Ecclesiastical Commissioners for the province of Cashel. The drawings, which cover the period from 1826 to 1841, relate to churches in the dioceses of Cashel and Emly; Cloyne; Cork and Ross; Killaloe and Kilfenora; Limerick and Ardfert; and Waterford and Lismore.
The smallest collection of drawings comprises eleven sets by the Dublin firm of John Semple and Son, Architects to the Board of First Fruits for the province of Dublin. The drawings span the period from 1824 to 1831 and included in the collection are some of the famous churches associated with Semple: Saint Mary's Church (1827), Donnybrook; Holy Trinity Church (1828), Rathmines; and Saint Maelruain's Church (1823-9), Tallaght. Also included in the collection are churches in Counties Carlow, Dublin, Kildare and Wicklow.
Figures 3-4: An unsigned and undated drawing, attributed to Joseph Welland (1798-1860), showing the proposed South Elevation and Ground Plan of Saint John's Church (Rathcline), Lanesborough, County Longford. Construction on the church began in 1858 and the dedication was carried out in 1862. A photograph from 2009 shows the church with its bellcote undergoing repair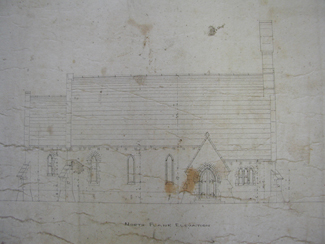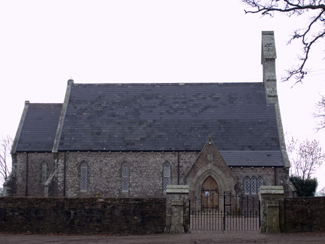 Figures 5-6: A drawing, signed by Welland, shows the proposed North Flank Elevation of Saint James's Church (Horetown), County Wexford. A date stone records the date of construction as 1856 although work only began in 1857 and a series of photographs taken by Strangman Davis-Goff (1810-83) of Horetown House records the various stages of construction until completion in 1858. A recent photograph shows the church following its restoration in 2009
A four-volume set contains drawings of churches by Joseph Welland (1798-1860), Architect to the Board of First Fruits and then the Ecclesiastical Commissioners for the province of Tuam. The drawings cover the period from 1850 to 1861. Volumes 1-2 include surveys of churches in the dioceses of Ardagh; Clonfert and Kilmacduagh; Elphin and Kilmore; Killala and Achonry; Meath and Tuam. Volumes 3-4 include working drawings for churches in different parts of the country.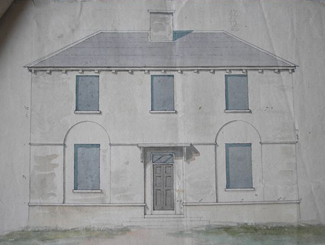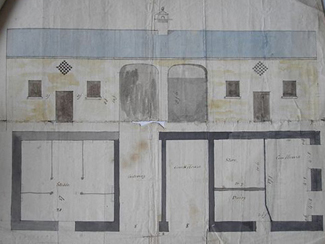 Figures 7-8: Two drawings, unsigned but approved in 1815, show the principal elevation of the glebe house proposed for the parish of Ballysakeery near Killala, County Mayo, together with the accompanying coach house and stables.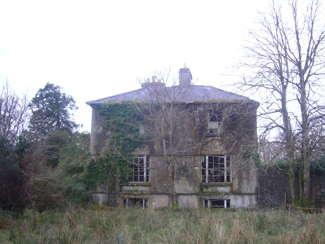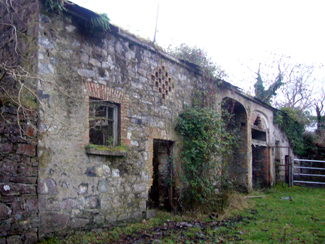 Figures 9-10: The glebe house, birthplace of Dr. Kathleen Florence Lynn (1874-1955), Chief Medical Officer in City Hall Garrison (1916), is now derelict and overgrown and a photograph from 2005 shows the outbuildings in a similarly dishevelled state
The miscellaneous dimension is evident also in a collection of drawings of glebe houses, deaneries, rectories and Episcopal residences. These have largely been separated from diocesan and parochial collections or have been acquired from private architectural practices. Covering the period from 1807 to 1981 the collection includes work by some well known architects including John Bowden (d. 1822) and (Sir) Thomas Drew (1838-1910) and more modern firms with strong Church of Ireland associations including Donnelly and Henry and McDonnell and Dixon. Unlike the previously described sets the drawings also include some specifications which add considerably to the informational value of the collection.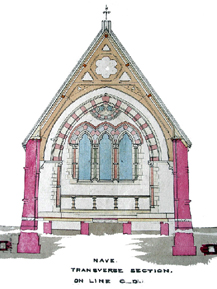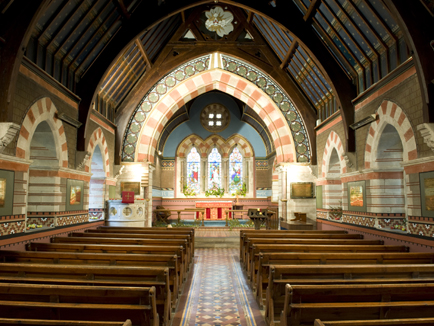 Figures 11-12: A colour-washed drawing signed (1869) by James Rawson Carroll (1830-1911) showing Nave Transverse Section of Saint John's Church (Abington), Abington, County Limerick. The polychromatic interior, described as 'one of the highlights of Church of Ireland architecture', is impeccably maintained and has undergone sensitive restoration
By far the largest collection consists of 27 portfolios of nineteenth-century drawings of churches from every diocese in the Church of Ireland. The provenance of this collection is uncertain but it seems likely that it was part of the archives of the Ecclesiastical Commissioners which was transferred to the Representative Church Body at disestablishment and to which drawings, often from diocesan architects, have subsequently been added. The collection includes the work of architects who are little represented in the other collections such as William Atkins (1812-87); James Rawson Carroll (1830-1911); and Frederick Darley (1798-1872). These drawings are currently being digitised and catalogued by the architectural historian, Dr. Michael O'Neill FSA, and the first phase of the catalogue, which includes drawings from the dioceses of Achonry, Ardagh, Ardfert, Armagh, Cashel, Clogher, Clonfert and Cloyne, are now available online at: http://www.archdrawing.ireland.anglican.org/
Figures 13-14: A photograph showing Holy Trinity Church (Garranekinnefeake), near Cloyne, County Cork, in its lush sylvan setting overlooking a channel of Cork Harbour. A drawing, signed and dated (1865) by William Atkins (1812-87), shows the proposed East Elevation. Amongst the seventeen accompanying drawings in the Representative Church Body Architectural Drawings Collection are proposals for the corresponding West, North and South Elevations; Longitudinal Sections; Ground Floor Plan; and Chancel Window Details
Figures 15-16: Another drawing from the collection, once again signed and dated (1865) by Atkins, is labelled "Transverse Section Looking North" and "Transverse Section Looking South". A recent photograph (2009) shows the polychromy of the exterior stonework carried through to the interior in bands of red and yellow brick
A version of this article first appeared on the website of the Representative Church Body Library: http://ireland.anglican.org/about/128