This year is the one hundred and eightieth anniversary of the birth of James Franklin Fuller (1835-1924), the subject of the current exhibition at the Irish Architectural Archive: Who was James Franklin Fuller?

Born in 1835 in County Kerry, and educated in Cork and Dublin, Fuller moved to England in 1850 and spent a year's apprenticeship with a mechanical engineers company before entering as an apprentice the London offices of architect Frederick William Porter (1821-1901). Fuller returned to Ireland in 1861 and the following year took up a position with the Irish Ecclesiastical Commission, based in Killeshandra, County Cavan. Following the disestablishment of the Church of Ireland he moved to Dublin and opened his own practice.

Fuller was an avid self-publicist and, although he demurely stated that 'I cannot call myself a celebrity', he was in fact quite well known in his day. His name no longer resonates as it once did, but he was responsible for some of Ireland's best known buildings. His clients ranged from the Representative Church Body, who appointed him architect to the dioceses of Dublin, Glendalough, Kildare, Meath, Ossory, Ferns and Leighlin in 1871, to wealthy landowners such as the Guinness family for whom he completed St. Anne's (1873-85) in Clontarf, Dublin. Fuller also rebuilt Ashford Castle (1875-81), the Guinness property on the border of counties Galway and Mayo. Farmleigh (1874-84), Dublin, and Kylemore Castle (1868-84), County Galway, are among his other well-known designs. Commercial clients included the Great Southern Railway Company for whom Fuller built hotels in Kenmare and Parknasilla, County Kerry. He seems to have always inspired trust in his clients; he would produce the size of building wanted, in the desired architectural style, for the agreed budget.
A view of Kylemore Castle in its spectacular setting on a wooded hillside overlooking Pollacappul Lough. Designed by Fuller in collaboration with Samuel Ussher Roberts (1821-1900), it was built for Mitchell Henry MP (1826-1910), a Manchester-based merchant who was bankrupted by the cost. The house was extended by the Duke and Duchess of Manchester in 1903 and was taken over in 1920 by Benedictine nuns from Ypres, Belgium, whose convent has been destroyed by during the First World War. It was at this time that the house was renamed Kylemore Abbey. Photography by Nutan
Kylemore Castle, nestled in a wooded hillside overlooking Pollacappul Lough near Letterfrack, is one of Fuller's most iconic works. Built for the wealthy client Henry Mitchell MP (1826-1910), Fuller took over the project after the death of the original architect, Thomas Henry Carroll (c.1816-68), and initially worked alongside another architect, Samuel Ussher Roberts (1821-1900). The house extends to over 40,000 square feet and cost £24,000. It is faced with granite quarried in Dalkey, County Dublin; just bringing the raw materials to the site was costly and difficult. The journey for the architect was equally arduous. 'To get to Kylemore in those days', Fuller noted in his autobiography Omniana (1916),'was no easy matter. The train landed me at Westport the first day, the next meant posting to Leenane, the third was devoted to the castle and church, while the fourth dropped me at Westport in time for the night mail; practically it "spoiled" a week'.
| | | |
| --- | --- | --- |
| | | Details of the stone work including the granite facing brought from Dalkey, County Dublin, at much cost. The house was extensively damaged by fire in 1959; however, the walls survived and were incorporated into its reconstruction. Photography by Nutan |
Undoubtedly eccentric, and inveterately snobbish, Fuller wrote High Victorian melodramatic novels, and boasted of a connection via his wife with one of Napoleon's marshals, not to mention descent in his own right from no less than Charlemagne. He was also architecturally prolific. He claimed to have 'carried out professional work in every county in Ireland' and the Irish Architectural Archive's Dictionary of Irish Architects lists over two hundred of his works.
| | | |
| --- | --- | --- |
| | | |
In addition to the house, Fuller was also responsible for the design of a private church on the Kylemore Castle estate. The church has been described as a miniature cathedral in form and layout and is considered to be one of the most accomplished works in the Gothic Revival style in Ireland. Highly skilled craftsmanship is event throughout and includes varied forms of tracery in the window openings and a ribbed vaulted ceiling. The stone work is attributed to Alfred Peter Sharp (d. 1920), Stone Cutter of Allington, Merrion Road, Dublin, and cost £8,000. Photography by Nutan
He had, however, a lifelong habit of throwing away any letter sent to him as to do otherwise, to keep it or file it away, would be 'in the highest degree treacherous and dishonourable'. He rarely kept copies of the letters he himself sent, and 'kept no ledgers or books of any sort: I could not see the least necessity for them'. His drawings, too, he treated just as casually with the result that his archival remains are very scant, perhaps one reason for his lapse into obscurity.
It is hoped that the exhibition currently running at the Irish Architectural Archive, featuring mainly nineteenth-century photographs of some of his buildings and a handful of his surviving drawings, will spark new interest in his career and his architecture and perhaps being some new information to light.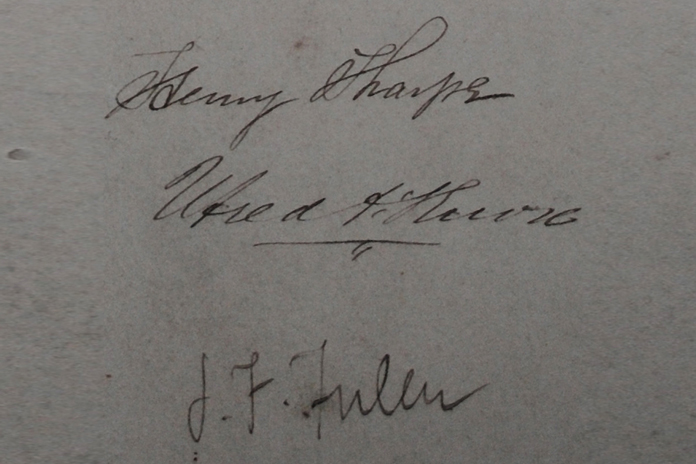 Fuller's archival remains are very scant, perhaps one reason for his lapse into obscurity. Here is a detail of one of the surviving contract drawings for Mount Falcon (1871-80), a country house erected for Utred Augustus Knox (1825-1913) in the environs of Ballina, County Mayo. The drawing is signed by the building contractor, Henry Sharpe (d. 1905) of Ailesbury Road, Dublin, and by Knox and Fuller
Simon Lincoln is Exhibitions and Outreach Officer with the Irish Architectural Archive. The Who was James Franklin Fuller? exhibition continues at the Architecture Galley, Irish Architectural Archive, 45 Merrion Square, Dublin 2, until Saturday 31st October, 2015. Visit www.iarc.ie for more information
Back to Building of the Month Archive