Fourth Issue of "Heritage Ireland" now available
Thu, 21 Jul 2016 00:06:00 IST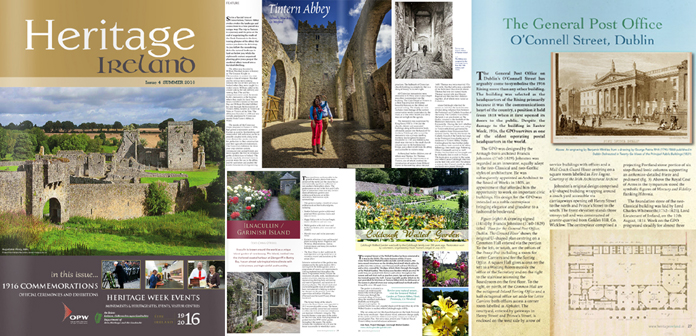 ‌
The fourth issue of "Heritage Ireland" is now available. A collaboration between the Office of Public Works (OPW) and the Department of Arts, Heritage, Regional, Rural and Gaeltacht Affairs (DAHRRGA), "Heritage Ireland" brings you features and news on Ireland's cultural institutions and heritage sites.
Highlights of the fourth issue of "Heritage Ireland" include the Cistercian Tintern Abbey at Saltmills, County Wexford, with a brief article on the nearby Colclough Walled Garden which has been undergoing restoration since 2010; the history of the General Post Office, Dublin, the symbol of the 1916 Rising; and the beautiful Ilnacullin on Garinish Island, County Cork, designed by Harold Ainsworth Peto (1854-1913).
This year's National Heritage Week takes place from the 20th to the 28th of August and over 1,800 heritage events are being organised. "Heritage Ireland" takes a look at some of the events being held at Office of Public Works sites across the country during National Heritage Week.
Click here to download your copy of the fourth issue of "Heritage Ireland"